15 Jan 2020
How Customer Experience Can Save Retail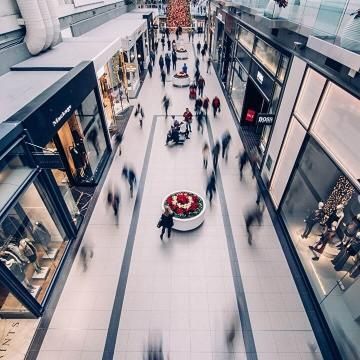 In the last couple of years, major brands such as Poundland, Toys R Us, Thomas Cook and most recently Mothercare have closed down, causing thousands of jobs to be lost. Other brands are feeling the pinch, with many retailers being forced to renegotiate rent with landlords and selectively closing poorly performing stores.
This high street is clearly in a struggle, largely due to consumer habits changing, with online shopping providing a level of convenience and cost savings that physical stores struggle to compete with.
However, there is still hope for retailers. What differentiates retail from online stores is their ability to create memorable experiences, and being able to engage senses such as sight, smell and touch in-store. This is where retailers need to focus on to keep customers coming back to physical stores - if they try to compete on cost and stock availability they will simply lose against the online stores.
In this blog, we'll examine some of the ways in which retailers have implemented measures aimed at improving customer experiences in their stores.

Staff Training
One of the ways physical stores are different to online is that there are advisors on hand who can consult customers on which products might be best suited to them, such as in a beauty or electronics store. It is up to companies to ensure their staff receive good training on providing excellent customer service and on their product/ service knowledge.
Lush is known for giving extensive training to their staff, teaching them how to provide high levels of service to customers and giving them a lot of product knowledge so they can consult their customers best. For example, staff are trained to recognise behaviour such as if customers need help or if they want to browse the store alone in peace. This significantly enhances the shopping experience for customers and could encourage them to choose retail stores over online stores.

Provide Easier Checkouts
The goal is to make it easier for customers to buy products. When shopping online, all customers have to do is click on a product, enter their card details (not if they're saved) and click to buy. In stores, if queues are too long, retailers run the risk of customers abandoning their purchases altogether. So, what can retailers do to speed up their checkouts?
Lush tested a new concept at its flagship store in Oxford Street, London, by introducing a remote payments system. With this new system, staff around the store carry Android-powered tablets on them, which can be used to scan and register products, allowing customers to quickly buy the products and check out. Since implementing this measure, customer satisfaction has increased and revenues have grown 20% in the store.
Another possibility, and perhaps the future of retail is checkout-free shopping. Amazon last year tested its first flagship Amazon Go store - a supermarket where customers can purchase products simply by walking in picking stuff off the shelf and then walking out.

Could technology like this be applied to wider retail?

Augmented Reality
Digital technologies are paving the way for companies to create amazing in-store experiences. Augmented Reality is at the forefront of this, and can change the way people buy products and services.
AR has seen a lot of uptake in clothing stores, allowing customers to try on multiple clothes using 'smart mirrors'. Technologies like AR add to the in-store experience and again provide something that online retailers may struggle to match.

Get Creative!
Virgin brands are famous for taking customer-centric approaches to their products and services. Virgin Holidays, operating in the difficult retail tourism market, has taken many measures to ensure it provides amazing in-store experiences. What they try to do is to recreate the experiences you would receive when going on holiday with them.
For example, all staff wear cherry coloured outfits, replicating those worn by air stewards on Virgin planes. The store features a creative layout featuring a bar where customers can have a glass of bubbly, and real aeroplane seats with a VR headset to go along offering a VR experience. In their Milton Keynes store, they've even had a spa built!

To conclude, retailers need to find ways to get more customers coming back to their stores by creating amazing experiences! This will make retail shopping more engaging, interactive and fun compared to online shopping, and will hopefully prevent more closures of large organisations!